Chicago Trade Show Magician
Chicago Trade Show Magic Creates Booth Traffic,
Stops Important Trade Show Clients in their Tracks
and Delivers Your Message with Magic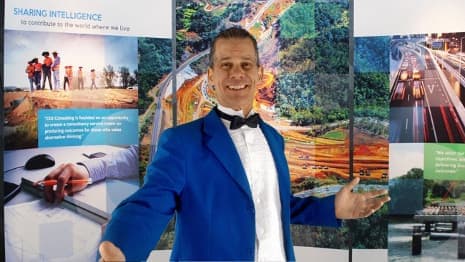 We will work with you to create custom magic tricks and scripting that will effectively communicate your key points. We will then personally deliver your message with magic at your booth.

Optionally, we can quickly teach your trade show staff, either on-site or via distance learning, to deliver your message using an easy-to-do magical promotional giveaway item. This item will not only entertain & amaze your trade show audience, it will also, more importantly, deliver your message in a memorable way.
Chicago Magician Stops Important Clients in Their Tracks!
Chicago Trade Show Magic goes far beyond entertainment. Businesses hire us because we build booth traffic, increase their leads, deliver product information in a compelling way, and enhance their profiles at the trade show.
Chicago Trade Show Magician Builds Booth Traffic!
"At our international trade show in Italy which included people from ten countries with different languages, you attracted and held people using his visual performance and, without an interpreter, helped make our event a success!"

Rand McNally
Chicago Trade Show Magic Gets You More Leads!
"Your ability to attract a large audience, work in the client's products and rebate promotion with tricks and comic dialogue did a masterful selling job for us. This was the most successful exhibit in our history with record number of dealers registered."

North American Graphics
Chicago Trade Show Magician Delivers Your Message with Magic!
"Your professionalism really came through! With little more than our ideas to work with in some cases, you were able to blend our themes into your work in a most entertaining way."

J.D. Edwards & Company
Chicago Trade Show Magician in Action
Working for X-traWeb, a subsidiary of World Wireless Communications, Inc., our trade show magician gathers crowds for presentations using Trade Show Magic-- our own unique style of close-up magic ...

... then, in X-traWeb's kitchen set, our magician demonstrates their web enabled technology- turning on blenders, lights, coffee pots, raising shades, setting thermostats, watering the lawn, and more, using nothing but a laptop and the Internet ...

Afterwards, our magician gathers and entertains a new audience for his next demonstration.
"X-traWeb, Inc. and I thank you so much for an excellent job performing during COMDEX. You wowed everyone with your great magic and clearly helped us steer traffic toward our booth."

X-traWeb, Inc.
Custom Imprinted Magic Tricks for Trade Show Giveaways
Magic Management's custom Trade Show Giveaways are a unique line of visual and interactive close-up magic trade show giveaways designed to grab attention and steer traffic toward your trade show booth.
These unique trade show giveaway ideas (customized with your logo or message) are self-working tricks that will be repeated many, many times by their recipients. They will perform this trick for other trade show attendees, showing your custom message again and again.
We have produced millions of tricks for a wide variety of domestic and international corporations, individuals and organizations including Ralston Purina, Standard Brands, Curtis Candy, Willy Wonka Candy, Hershey's Chocolate, American Playing Card Co., Six Flags, Disneyland, Ringling Bros., Barnum & Baily Circus.
Click the link below to see our complete line of Custom Imprinted Magic Giveaway Items.

Custom Imprinted Magic Giveaway Items