Comedy Magic Show
Magical FUN For Children and Adults!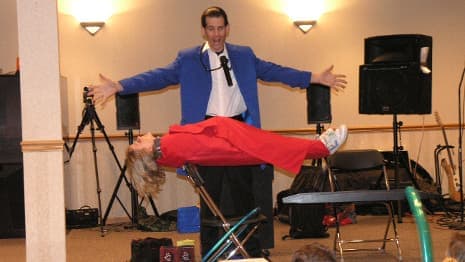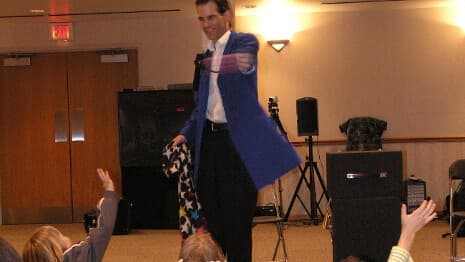 More than just a magician, he's a genuine entertainer and all-around funny guy. A lifetime of experience in magic, combined with a background in theater and improvisational comedy, ensures each show is a "one of a kind" entertainment experience that keeps audiences laughing and engaged. His quick-wit and playful on-stage personality gives him the unique ability to connect with audiences of all ages and makes him a favorite at countless public events and private parties throughout the greater Chicagoland area.

This one man stand-up comedy magic show is the perfect mix of comedy magic, mind-reading, illusion, fun stunts and audience involvement. It fits just about every situation and is great for audiences of all sizes. Whether it's a private party or a public event, this show is a guaranteed hit that will keep your guests charmed and captivated!
What Clients Are Saying About Our Birthday Party Magician
"Thank you for a terrific magic show. It was everything we hoped for. The kids and adults both enjoyed it a lot."

Eric P., Naperville, IL
"We had you perform a magic show at our son's recent birthday party. All of the kids (ages 2-12) enjoyed the magic show and adults as well were impressed and entertained too! He was the hit of the party and would highly recommend you."

Joan M., Northbrook, IL
"We thoroughly enjoyed the Magic Show! The kids absolutely loved it! You were great with the children and put on a fantastic magic show. Highly recommend him."

Margie M., Crystal Lake, IL
"You were spectacular at our kids' birthday party! Everyone there, both young and old, were impressed and truly entertained!"

Jacqueline S., Evanston, IL
"You did such a great magic show for my daughter's party, my son wants you to come back for his!"

Angela O., Bolingbrook, IL
"For once the parents enjoyed the entertainment as much as the children!"

Cheryl F., Dundee, IL
"I liked the magic show a lot! Thank you for the balloon dog. And thank you for the magic trick! I liked all the magic tricks!"

Thailer, Elgin, IL
"The magic show was Great! Both Kids and Parents Loved it! We all had so much fun!"

Pat & Carter M., Gurnee, IL
"Thank you so very much for the great magic show at Alexander's birthday. He had such a great time and is already asking if you can come back for his next birthday!!! The kids and parents really enjoyed your performance!"

Christina S., Barrington, IL
"Just a note to say how much we enjoyed the magic at our holiday party. You were able to engage the whole group and made us all laugh. You helped to make the event a success."

Barb L., Rosemont, IL
"It was great working with you! The guests really enjoyed your performance. Thanks again!"

Jenny A., Chicago, IL
"Your performance was a real crowd-pleaser. Your magic was delightful. You had the crowd gathered around you throughout the event. The great participatory tricks instantly loosened up our crowd and got them mingling. Your sleight of hand had everyone in attendance mesmerized."

"The Auxiliary Board highly recommends you and will definitely be using you for future events. You were an integral part of creating two successful charity events."

Nicole H., Chicago, IL
"Your magic show was just delightful. The magical tricks and your wonderful humor were truly enjoyed by all."

La Verne R., Lake County, IL
"Thank you for the wonderful magic show!"

Bridget L., Aurora, IL
"It was a pleasure having you at our "Take Our Children To Work" event. With over 150 children here that day, knowing that you would keep them interested, entertained, and pleased with their visit was terrific."

Kerry A., Lincolnshire, IL
"I just wanted to personally thank you for a great performance. The show was a hit. And the kids loved the balloon making aspect as well. Thank you again!!!"

Yasmeen S., Arlington Heights, IL
"The magic show that you did for our son's birthday was wonderful! Both kids and parents alike really enjoyed your magic tricks and humor. We would highly recommend you to anyone looking to organize a birthday or similar event."

Xavier M., Chicago, IL
"Thanks for making my son's birthday party so memorable. You somehow managed to keep 16 boys calm, attentive and entertained - a trick in itself!! He's still talking about all the cool tricks you did, and he and his friends loved the balloon swords you made them. It was a great day in large part to you! Thanks again!"

Viktoriya S., Streamwood, IL
"Thank you so much for our son's Birthday Party. It was so entertaining for both kids and adults. You were great! Thank you so much for a very good job!"

Kim F., Plano, IL
"I just wanted to let you know that we loved the performance! We all had a great time. The kids had a blast and the grown-ups were really impressed. Thank you so much!"

Rachael G.,La Grange, IL
Video Clips
See How Our Magician Will Make Your Event Unforgettable!
The Mind-Reading Goose !
Balloon Twisting
Face Painting