Chicago Corporate Magician
Our skilled corporate entertainer transforms ordinary events into magical experiences!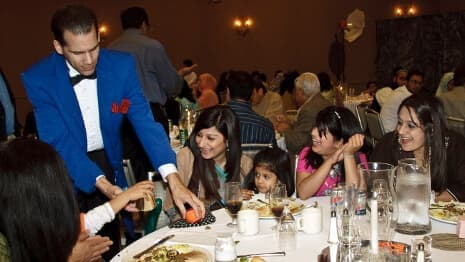 From Chicago area trade shows and hospitality suites, to sales meetings, seminars and conferences, to customer or employee appreciate events and holiday office parties, our corporate magician and mentalist for hire will engage and entertain any audience!

Beyond mere entertainment, our skilled corporate conjuror can custom-tailor the theme of his performance to help communicate important messages to event attendees in a fun and entertaining way.

Make your next corporate event a magical success-- and do it with little or no work on your part! Because when our Chicago magician combines his amazing magic and mind-reading with clean (HR friendly) comedy into a five-star performance, he'll make you and your company look like the star!
Our Corporate Magician Services
Meetings/Conventions/Conferences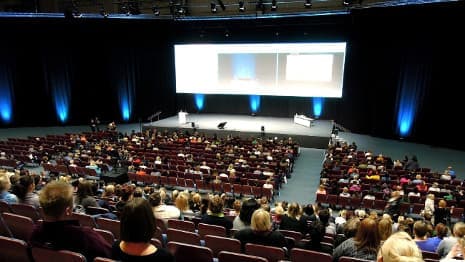 Program Formats Include:
Keynote Dinner or Luncheon Presentation

The focus of the program, with special messages and magic effects can be tied to the specific theme of the meeting, conference or convention.
Time: 10-60 minutes.

Training the Trainers

This program teaches managers and representatives special magic tricks that communicate a specific message or realize a desired response from customers, prospects, employees, etc.
Time: 10-60 minutes, 1/2 day, full day, or multiple sessions.

Cocktail Hour/Mixers

This "fun" roving program involves magic interspersed with messages that relate to the theme of the dinner meeting or a speaker's presentation.
Time: 30-90 minutes.

Conference Break-out Sessions

The program could serve to reinforce one or more of the key messages communicated during the conference, with special magic effects used.
Time: 10-60 minutes.

Seminar Programs

A number of specific topics can be presented during these sessions, which brings the classroom to the workplace, including such motivational topics as: Adapting & Adjusting to Change, Stress Management, Team Building, Communications, and many others.
Time: 1/2 day or full day.

Special Multi-session Programs

This is another aspect of bringing the classroom to the workplace and can take place during the lunch hour or some other convenient time over several days, with the program covering chosen motivational topics, customized for the particular company and audience.
Time: 10-60 minutes per session or longer.
Recent Corporate Assignments Include:
THE QUAKER OATS COMPANY
Five one-hour programs in two days for all shifts at safety meetings.
ADVANCED KELLOGG GRADUATE SCHOOL OF BUSINESS
Fun after dinner program for the participants in the Executive Development Program.
KIMBERLY-CLARK CORPORATION
Continuous multiple presentations at open house at Neenah, Wisconsin plants, workshops for EAP, family picnics and other family events there and at Conway, Arizona plants.
UAW FORD
Keynote address and fun activity program at the EMPLOYEE SERVICES PROGRAM annual joint conference in San Diego, California.
RAND McNALLY
Multiple trade show presentations over a four day period for international audiences in Bologna, Italy at the International Children's Book Fair.
KEEBLER COMPANY
Fun after dinner MIND GAMES program for Human Resource Managers.
LANIER VOICE PRODUCTS
Customized presentation introducing new products at sales meeting.
U.S. POST OFFICE SUPERVISOR TRAINING CENTER
Custom training program.
K-MART CORPORATION
Custom training program for food service employees.
EUREKA COMPANY
Consulting and performing on film for in-store "commercials".
KRAFT FOODS
Fun brown bag lunch presentation for sales force.
CLINIQUE
Breakfast program for new product sales meeting.
INTERNATIONAL CUSTOMER SERVICE ASSOCIATION, CHICAGO CHAPTER
Annual Customer Service Representative Appreciation Night.
PETROLEUM INDUSTRY WORKSHOP
Workshop presented for the wellness coordinators of the major oil companies.
ITW SHAKEPROOF DIVISION
Fun after dinner program introducing employees to MIND GAMES.
J.D. EDWARDS & COMPANY
Customized MIND GAMES presentation at their annual meeting.
DISTRIBUTION SCIENCES, INC.
Customized trade show sales presentation at the Distribution/Computer Expo.
FOX CITIES CHAMBER OF COMMERCE & INDUSTRY
Keynote address at their Workplace Wellness Conference.
CHILD & FAMILY SERVICES, MUSKEGON, MICHIGAN
Keynote address for their Spring EAP workshop.
What Clients Are Saying About Our Training
Your professionalism really came through! With little more than our ideas to work with in some cases, you were able to blend our themes into your work in a most entertaining way."

J.D. Edwards & Company
Communication Magic Training
Whether you are:
looking for an Ice-breaker to warm up participants in a Meeting, Training Class, Team Building Session,
looking to add an attention-getting "Opener" or memorable "Closer" to a Speech or Presentation,
looking for a unique & engaging hook for a Social Media campaign,
looking to Attract a crowd at your next Trade Show,
we can help you add a little magic to your business communications.
Contrary to popular belief, magic is much more than merely pulling rabbits out of hats or sawing someone in half. In fact, magic relies much more on psychology and communication skills than it does on trapdoors and skilled sleight-of-hand. You won't need a top hat, white rabbit or years of practice. With our expertise, and a tremendous selection of magic tricks & optical illusions, we can help you accomplish your specific messaging objectives.

Contact Us Today for a free consultation and discover how we can help you Deliver Your Message with a Touch of Magic.
What Clients Are Saying About Our Training
"I want to thank you personally for the way you went to work on the project so quickly, picked up the nuances of the message and translated that into magic tricks that helped our speakers convey their message so convincingly."

Kimberly-Clark Corporation
Close-Up Magic
A mix of magic, mind-reading, and tasteful humor, performed up-close and personal!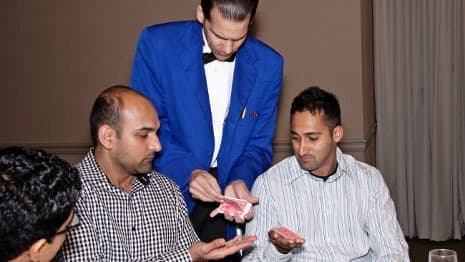 The real trick to creating a truly special event is to make sure your guests start having fun right away; minutes after they arrive. This is when our close up magician steps in and begins to work his magic. With skilled sleight-of-hand magic, mind-boggling mentalism, and tasteful humor, our magician will delight your guests, a few people at a time, with their very own 5 to 10 minute high-energy "mini" magic show.

Your guests become the key players in the fun as cards appear and disappear, minds are read, and an audience member's diamond ring disappears, then reappears, safely clipped to our magician's key ring! Plus many more magical surprises!
Close-up Magic Performance Options:
Whether performing Mix & Mingle Magic or Table-side Magic, for small groups of guests at a time, or a Formal Close-up Show before the whole gathering, our magician will fill the room with laughter and gasps of amazement!
MIX & MINGLE MAGIC
For events where guests will be mixing and mingling, your magician will mix and mingle with them. The magician will move freely around your event, mixing and mingling with your guests, performing intimate 5-10 minute "mini" magic shows, for a few people at a time. This is a great entertainment choice for larger company events (groups of 60 or more).
TABLE-SIDE MAGIC
For events where guests will be seated at tables, your magician will entertain each table with their own, mini magic show. The magician moves from table to table (typically before or after a meal), where guests are seated. He performs a 5-10 minute mini magic show at each table. This is an ideal entertainment option for larger corporate events (groups of 60 or more).
FORMAL CLOSE-UP SHOW
The magician sets up a small table and your guests sit in chairs, up close, in front of the magician. He performs a 30-45 minute close-up magic show for the entire group. This is an ideal performance option for smaller gatherings (groups of 50 or fewer).
Contact us today to discover how we can help "bring the magic" to your next corporate event.
What Clients Are Saying About Our Corporate Close-up Magician
"Our customers are still telephoning us to let us know what a 'blast' they had at our corporate party. Our president said he has received phone calls from people specifically mentioning the magician. He was wonderful and we are looking forward to our next corporate event where we can call upon you again to do your roaming magic show."

Jeanette M. Meyer, Office Manager
Travis-Pedersen and Assoc., Inc.
Banquet Entertainment
Magic is the perfect entertainment choice to create an atmosphere of fun and excitement!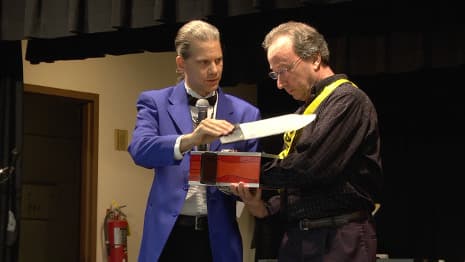 As your guests arrive, our corporate magician is on the scene, ready to ensure everyone starts having fun from the outset. Your corporate guests are entertained, a few people at a time, with a mini performance of incredible close up magic and mind-reading! Our magician continues to mix and mingle (until dinner is served), creating a fun, relaxed atmosphere.
And/or, after the meal is over, our corporate magician entertains your guests with a stand-up performance of interactive comedy magic and mentalism. This engaging presentation of skilled sleight-of-hand, visual illusion, impossible mind-reading and tasteful humor, is a great way to provide a magical finish to the evenings festivities.
What Clients Are Saying About Our Banquet Entertainment
"You were a real crowd-pleaser. Your magic was delightful. You had the crowd gathered around you throughout the evening. The great participatory tricks instantly loosened up our crowd and got them mingling. Your sleight of hand had everyone in attendance mesmerized."

"The Auxiliary Board highly recommends you and will definitely be using you for future events. You were an integral part of creating two successful charity events."

Peggy Notebaert Nature Museum
Comedy Magic Show
Magical FUN For Audiences of All Ages!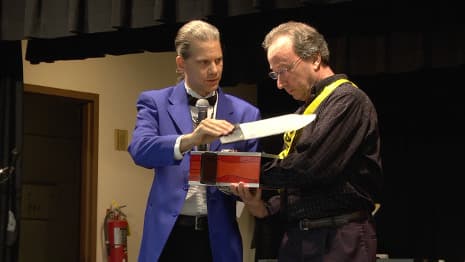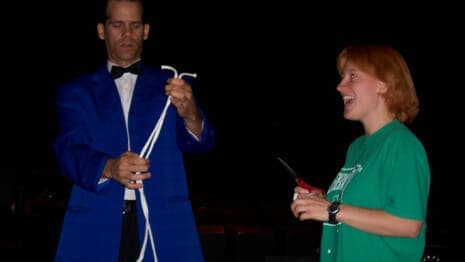 More than just a magician, he's a genuine entertainer and all-around funny guy. A lifetime of experience in magic, combined with a background in theater and improvisational comedy, ensures that each show is a "one of a kind" entertainment experience that keeps audiences laughing and engaged.

His quick-wit and playful on-stage personality gives him the unique ability to connect with any type of audience and makes him a favorite at countless corporate events and private parties throughout the greater Chicago area.

The combination of comedy magic, mind-reading, and illusion, mixed with fun stunts and audience involvement, creates the perfect corporate event entertainment.
Your guests are the key players in the Fun as:
"The Mind-Reading Goose" Reads Spectators Minds! (Ridiculous & Incredible)
"Slice of Hand" An Audience Member's Hand is visually Removed from their Arm!
"Mr. Magic" A Volunteer is Transformed into a Magician and Performs Amazingly Funny Magic!
"Totally Mental" The Magician is magically Transformed into a Super Hero chosen by the audience!
"Not-So-Straight" Jacket Escape A Great Escape Act that will have everyone Laughing & Amazed!
"The World's Most Dangerous Card Trick" (A Deck of Cards/An Audience Member/A Mousetrap)
PLUS MANY MORE MAGICAL SURPRISES!
This one man stand-up comedy magic show is the perfect mix of clean (HR friendly) comedy, magic, mentalism, and audience participation. It fits just about every situation and is great for audiences of all sizes. Whether it's a business conference, gala dinner, awards evening or client event, this show is a guaranteed hit that will keep your guests charmed and captivated!
What Clients Are Saying About Our Comedy Magic Show
"Just a note to say how much we enjoyed your performance at our holiday party. You were able to engage the whole group and made us all laugh. You helped to make the afternoon a success."

M. Ecker & Co.
Chicago Corporate Keynotes
Mind Games & Magic™ is an enlightening and entertaining keynote combining magic, mind reading and a thought-provoking message. In this keynote, a professional magician reveals how our brains are led astray, and how misperception, in turn, can lead to thoughts, feelings and behaviors that can be detrimental to health, happiness and success, both in our businesses and in our personal lives.

Magic owes it's success simply to misunderstanding. What we call a magic show is nothing but a collection of different misperceptions. Magicians exploit natural vulnerabilities in the how the brain processes our perceptions. In our daily lives, we seldom question the accuracy of our perceptions. Without realizing it, we simply assume that the way we think is the way things really are. The technique of dramatizing perceptual errors through magic & illusion helps confirm that our perceptions are not as accurate as we may think.

In a fun and informative way, our Mind Games & Magic™ keynote brings audiences to a new awareness of the power of perception and its influence on our lives, at home and in the workplace. The more aware we are of our perceptions and how they influence our choices, the more we can take responsibility for those perceptions, examine them and test them against reality, thereby creating a more accurate perspective from which to make improved choices in the future.

Contact us today to discover how we can custom tailor a keynote to fit your event's specific objectives.
What Clients Are Saying About Our Corporate Keynotes
"John Fabjance appeared before 150 of our top management people in the North American region of our company. He gave a wonderful performance under a tight time-line, inspiring the entire crowd while at the same time captivating them with sleight-of-hand and illusions. John entertained while educating! It was terrific!"

Anixter International
At your next event, our professional magician is introduced as an out of town corporate officer. As the audience listens politely, our magician starts to work his magic and the fun really begins. Our magician can even work your theme into his program.
Contact us today to discover how we can custom tailor a performance to fit your event's specific objectives.
What Clients Are Saying About the Counterfeit CEO
"Our small group of Chicago area trainers along with our senior instructors and some of our top managers thoroughly enjoyed your corporate performance.

As you know I have always tried to bring unique surprises to my corporate training sessions and you may have surpassed them all.

By placing your name on the agenda and the way you carried yourself when first arriving, everyone thought you were just another corporate staff member ready to address the group. You shocked them all with your magic and your overall performance, both at the meeting and at dinner, you will be long remember by our team here at Smurfit-Stone."

Jay KaplanSmurfit-Stone Container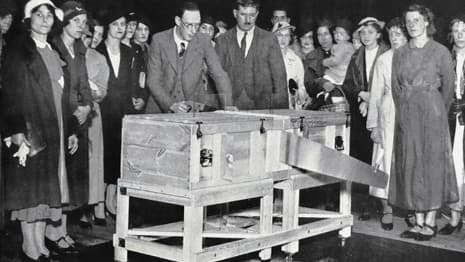 Want to open or close your meeting with a BANG? Through our tremendous storehouse of tricks and mini-illusions, we can help you add a little magic to your event! We can even incorporate your messaging into an impressive magical effect that will astound & amaze your audience while magically delivering your important information.
Magic Promotional Giveaway Items
Magic is a real "natural" for all types of promotions. When it comes to attracting attention and engaging an audience, magic works wonders. Our custom imprinted magic promotional items are an exclusive line of visual and interactive close-up magic giveaway items designed to grab attention and make your message memorable.

We will personalize these magic tricks giveaway items with your company information, picture, logo and artwork. These unique gifts will entertain, amaze and get your message across.

Click the link below to see our complete line of Custom Imprinted Magic Giveaway Items.

Custom Imprinted Magic Giveaway Items