TRICKS FOR TRAINERS/PRESENTERS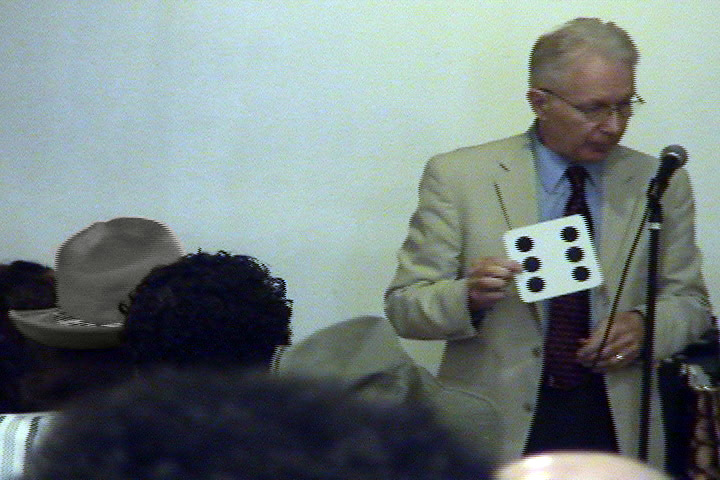 John Fabjance, Chicago magician and presenter, will teach you how to communicate more effectively with the use of Magic in your Presentations, Promotions, Proposals, Meetings & More!
Through John's tremendous arsenal of tricks and mini-illusions, he can help you incorporate your message into easy-to-master magical effects that will astound & amaze your audience while magically delivering your message.
Contact John today to discover how he can taylor a ten to ninety minute training workshop to fit your eventís specific objectives.


WHAT CLIENTS ARE SAYING ABOUT JOHN'S TRAINING
"I want to thank you personally for the way you went to work on the project so quickly, picked up the nuances of the message and translated that into magic tricks that helped our speakers convey their message so convincingly."

Kimberly-Clark Corporation

"Your professionalism really came through! With little more than our ideas to work with in some cases, you were able to blend our themes into your work in a most entertaining way."

J.D. Edwards & Company

"I will be able to use the magic in my program to help with better rapport and relationships with the kids that I teach. A lot of the tricks we learned today I will be able to use and I'm going to teach some of the other officers. It was very enjoyable and entertaining. A lot of knowledge was gained here today."

Patrolman Lonnie M. Netzel
Kankakee City Police Department

"I've been using the tricks I learned more to interact with than to perform. While with a group before or after class, I show a few of them a trick. They in turn tell others. Soon everyone wants to see the magic. With John's class, I was able to show some cool tricks just by using things out of my pocket. Also you don't need prior magic experience. This is a good way to break the ice with children or adults alike."

Officer Ken Van Der Haegen
Morton Grove Police Department

"It's another attention grabber! There are a lot of things I'm going to incorporate."

Officer Steven Millar
Streamwood Police Department

"I wanted my presentation to be truly memorable, so I decided I'd perform some magic and really punch up my points. A veteran performer, I'd used many a prop, but as novice magician, I was strictly in uncharted territory. I needed an expert both skilled and perceptive."
"Enter John Fabjance."
"John understood the heart of my text, and immediately suggested several great ideas. Once we settled on the sure-fire trio of simple magic that fit my speech to a tee, we set up a meeting. John provided the equipment I needed. He even brought along a couple of other options he thought might also work well."
"We had only one session, but it was an enjoyable one. With John's easy manner and constant encouragement, I made great progress and had fun, too! After some intense at-home practice, I felt confident enough to face an audience."
"The Big Night came just two days later. I had more butterflies than I can ever remember having on opening night, but thanks to John's training, I was able to focus on the message instead of the magic, and the evening was a big success."
"I turned to John Fabjance for polished, professional guidance, and that's exactly what he so expertly provided--magic tricks that enlivened my presentation, and low-pressure instruction that taught me how to execute them with ease. I could have worked with any number of others on my project, but I'm so very grateful that I chose John Fabjance."

Cheryl Lynn Bruce