MEETINGS/CONVENTIONS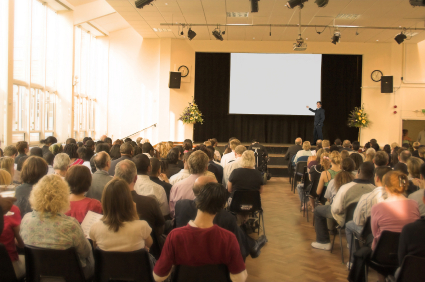 Find out why clients like Amoco, UAW/Ford, CBS-TV, and Kimberly-Clark keep bringing John back year after year!
Contact John today to discover how he can custom taylor his magic to fit your eventís specific objectives.
PROGRAM FORMATS
KEYNOTE DINNER or LUNCHEON PRESENTATION
The focus of the program, with special messages and magic effects can be tied to the specific theme of the meeting, conference or convention. Time: 10-60 minutes.
TEACHING MAGIC WORKSHOP
This program teaches managers and representatives special magic tricks that communicate a specific message or realize a desired response from customers, prospects, employees, etc. Time: 10-60 minutes, 1/2 day, full day, multiple sessions to be arranges.
COCKTAIL HOUR/MIXERS
This "fun" roving program involves magic interspersed with messages that relate to the theme of the dinner meeting or a speaker's presentation. Time: 30-90 minutes.
CONFERENCE BREAK-OUT SESSIONS
The program could serve to reinforce one or more of the key messages communicated during the conference, with special magic effects used. Time: 10-60 minutes.
SEMINAR PROGRAMS
A number of specific topics can be presented during these sessions, which brings the classroom to the workplace, including such motivational topics as: Adapting & Adjusting to Change, Stress Management, Team Building, Communications, and many others. Time: 1/2 day or full day.
SPECIAL MULTI-SESSION PROGRAMS
This is another aspect of bringing the classroom to the workplace and can take place during the lunch hour or some other convenient time over several days, with the program covering chosen motivational topics, customized for the particular company and audience. Time: 10-60 minutes per session or longer.
Contact John today to discover how he can custom taylor his magic to fit your specific needs.
RECENT CORPORATE ASSIGNMENTS
THE QUAKER OATS COMPANY
Five one-hour programs in two days for all shifts at safety meetings.
ADVANCED KELLOGG GRADUATE SCHOOL OF BUSINESS
Fun after dinner program for the participants in the Executive Development Program.
KIMBERLY-CLARK CORPORATION
Continuous multiple presentations at open house at Neenah, Wisconsin plants, workshops for EAP, family picnics and other family events there and at Conway, Arizona plants.
UAW FORD
Keynote address and fun activity program at the EMPLOYEE SERVICES PROGRAM annual joint conference in San Diego, California.
RAND McNALLY
Multiple trade show presentations over a four day period for international audiences in Bologna, Italy at the International Childrens Book Fair.
UNIVERSIDAD INTERAMENICANA de PUERTO RICO
University seminars and homecoming events in Recito de San German, Puerto Rico.
KEEBLER COMPANY
Fun after dinner MIND GAMES program for Human Resource Managers.
LANIER VOICE PRODUCTS
Customized presentation introducing new products at sales meeting.
U.S. POST OFFICE SUPERVISOR TRAINING CENTER
Special training program for food service employees.
K-MART CORPORATION
Special training program for food service employees.
EUREKA COMPANY
Consulting and performing on film for in-store "commercials."
KRAFT FOODS
Fun brown bag lunch presentation for sales force.
CLINIQUE
Breakfast program for new product sales meeting.
INTERNATIONAL CUSTOMER SERVICE ASSOCIATION, CHICAGO CHAPTER
Annual Customer Service Representative Appreciation Night.
PETROLEUM INDUSTRY WORKSHOP
Workshop presented for the wellness coordinators of the major oil companies.
ITW SHAKEPROOF DIVISION
Fun after dinner program introducing employees to MIND GAMES.
J.D. EDWARDS & COMPANY
Customized MIND GAMES presentation at their annual meeting.
DISTRIBUTION SCIENCES, INC.
Customized trade show sales presentation at the Distribution/Computer Expo.
FOX CITIES CHAMBER OF COMMERCE & INDUSTRY
Keynote address at their Workplace Wellness Conference.
CHILD & FAMILY SERVICES, MUSKEGON, MICHIGAN
Keynote address for their Spring EAP workshop.
OVER 850 UNIVERSITIES, COLLEGES & SCHOOLS NATIONWIDE
Presenting MIND GAMES & MAGIC to students, teachers & administrators in over 1500 classrooms - marketing, business, psychology, education and communications.